This is my frist attempt with Haiku, contrary to what most of us think, it is not at all simple to be simple.
Haiku is
a very short form of Japanese poetry typically characterised by three qualities: Hope, Peace, and Harmony, as per Wikipedia. But for youknowthatblog it is a simple 3 non-rhyming lines of just 5, 7, and 5 syllables as per the theme of the week.
This weeks theme is Absence, and here follows my first attempt.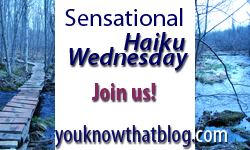 Never have, never will notice
all those years ago went missing
love joy innocence around.
Shall I say what feels
within the insides of me
crippling as times fly
But if I do say
presence can turn to absence
so let words be scarce